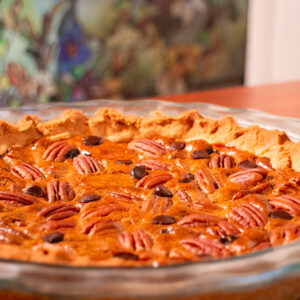 Keto Chocolate Pecan Pie
If you like pecan pie you will LOVE this Keto Chocolate Pecan Pie Recipe! Subtle hints of cinnamon and espresso paired with chocolate chips and pecans give this pie a rich and complex flavor. It is a must try for all you pecan pie lovers out there. Those of you don't love pecan pie, give this one a try. You might find yourself pleasantly surprised. 
Ingredients
Pie Crust
1 1/2

Cup

Almond Flour

1/4

Cup

Erythritol (Or your favorite sweetner)

1/4

Cup

Butter (melted)

1/2

Tsp

Salt
Filling
3/4

Cup

Butter

1

Cup

Erythritol

(Or your favorite sweetener)

1

Tbsp

Blackstrap Molasses

1 1/2

Tsp

Vanilla

1/2

Tsp

Cinnamon

1

Tsp

Espresso Powder

3

Eggs

1 1/2

Cup

Pecan Halves

1/4

Cup

Sugarfree Chocolate Chips
Instructions
To Make the Pie Crust
In a medium sized bowl, whisk together the almond flour, erythritol, and salt until evenly combined.

Stir in the melted butter until the dough sticks together and resembles course crumbs.

Put the dough in a pie pan and press firmly with fingers spreading it out along the sides and bottom of the pan until evenly distributed. Smooth out or crimp your edges using your desired method. After you have done this, set your pie crust aside and preheat the oven to 350°F.
To Make the Filling
In a medium saucepan over low heat melt the butter with the molasses and sweetener. Stir continuously until the butter has completely melted and your sweeteners have dissolved, about 5 minutes.

Pull the syrup off the stovetop and let cool for a few minutes, then whisk in the eggs, vanilla, cinnamon, and espresso powder. Once these ingredients are mixed together add the pecans and chocolate chips.

Pour the filling into the prepared pie crust, and place in the oven. Bake 45 to 50 minutes, or until the filling is mostly set, but still slightly jiggles when shaken. Let the pie cool completely before slicing and serving.

Note - If your pie crust is browning too quickly, cover the pie crust with a pie guard or aluminum foil to prevent the crust from turning too dark.