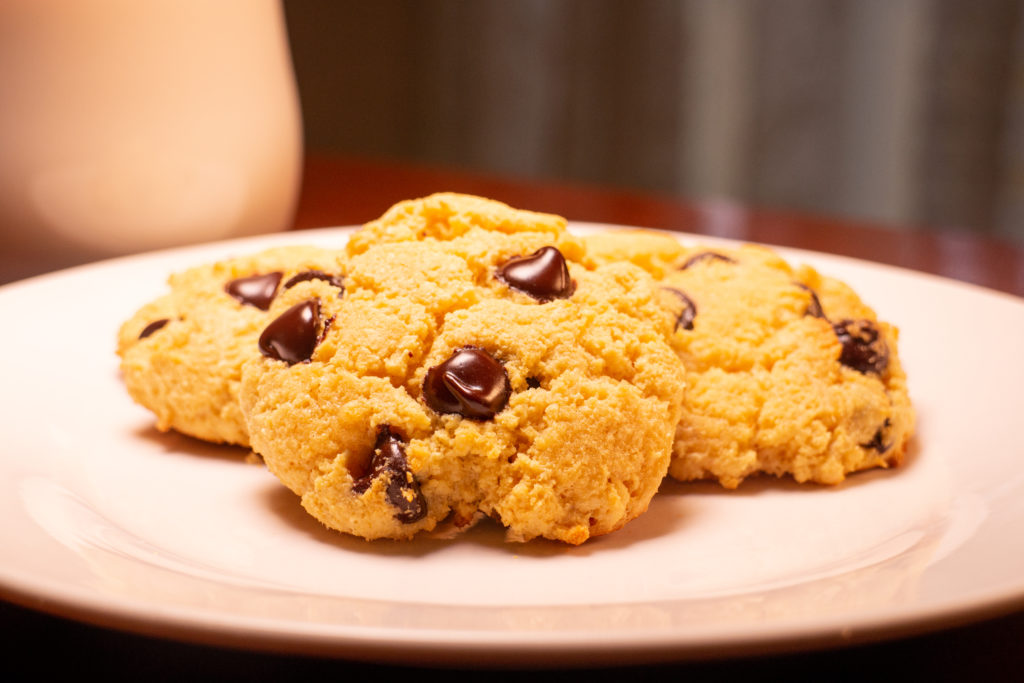 Chocolate Chip Cookies
A Source Of Nostalgia
The first thing I remember helping my mother bake was chocolate chip cookies. Little did she realize that by letting her small, blonde haired daughter pour chocolate chips into a mixer she was making a memory. A memory that fueled my passion for baking, and one I know I will cherish for the rest of my life.
I know I'm not the only one with precious memories connected to a chocolate chip cookie. Perhaps you have a memory such as this, perhaps you remember sitting at grandma's house eating hot chocolate chip cookies while she shared stories of her youth, or perhaps you have an entirely different story. No matter what your story may be I think many of us would agree that not only are chocolate chip cookies tasty, they are a source of nostalgia.
This past month I decided to work on developing a low carb version of this tasty treat, and I am pleased to be able to say, I was delighted with the final result. As I worked on this recipe, I realized though the process was very similar to traditional cookies there were a few shortcuts I could not make anymore.
On traditional cookies the recipes always called for softened butter, but I never let it soften. I used my trusty KitchenAid, and would beat it for a few minutes until it softened. In these low carb chocolate chip cookies, cream cheese is added to the mix, creating a small complication. I found the cream cheese had a tendency to clump and not mix into the butter smoothly if both ingredients had not softened at least a little. By letting the ingredients soften I found they both blended much easier, and this helped eliminate the small cream cheese chunks I found in my cookies.
Once both your cream cheese and butter have softened blend them together until smooth, then add your sweeteners. Turn the mixer on again until you have a creamy mixture as pictured below.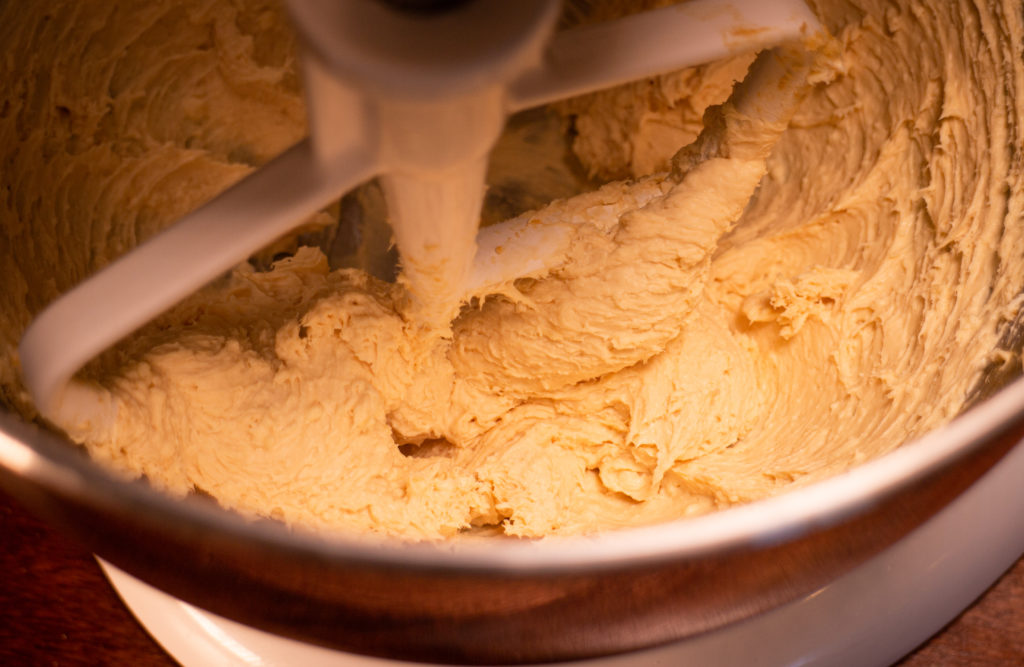 After that I add my eggs one at a time. Make sure your mixer is on low when you do this, or you may find egg all over the counter. And take it from me, that is not a pleasant experience! After the eggs are mixed you may think your mixture looks a little strange. Don't panic. I started to the first time and found that once I added the rest of my ingredients everything came out just fine.
After you have added your eggs add the vanilla, salt, cream of tartar, and baking soda. Once these ingredients have been mixed in, add your coconut flour and mix.
At first your dough may seem a bit sticky, and you may be tempted to add a little more coconut flour. DON"T DO IT! This was a mistake I made first go around and this resulted in my cookies being dry. Coconut flour absorbs moisture and lots of it! Let the dough rest for a few minutes and you'll find your dough will have changed considerable. That being said, if you live in a humid climate you may need to add a little extra flour. Coconut flour goes a long ways so I recommend adding it 1/4 teaspoon at a time. Your dough should be sticky but able to be rolled in your hands without sticking and losing shape.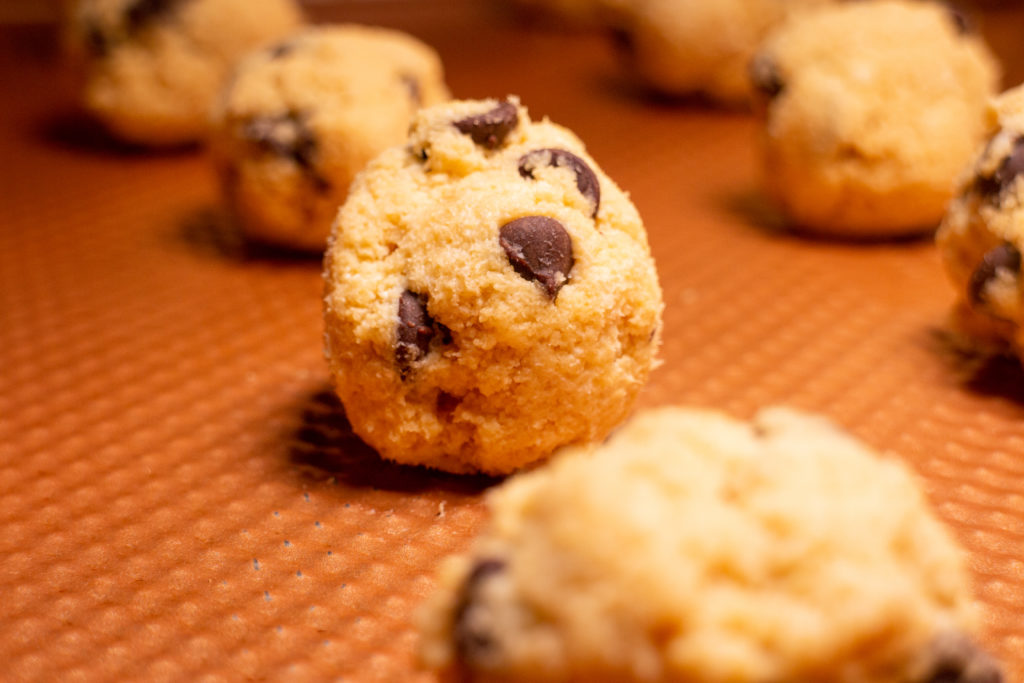 Once you have your coconut flour added now is the time for the fun part. The chocolate chips. My personal favorite sugarfree chocolate chip out there is Lily's chocolate chips. Rich in chocolate flavor and sweetened with erythritol. These chocolate chips are a superb low carb option. If you haven't tried them yet, I recommend clicking on the link above and buying some immediately! You won't be disappointed!
After you have added and mixed the chocolate chips, roll the dough into 1 1/2 inch balls and place on the parchment lined or non stick cookie sheet, leaving a space of about 2 inches between each cookie. Lightly flatten the cookies with the palm of your hand until they are about 3/4 of an inch thick.
Bake for 15-18 minutes or the cookies are slightly firm when lightly touched.
Let your cookies cool, then remove them from the cookie sheet. Pour yourself a glass of milk and enjoy!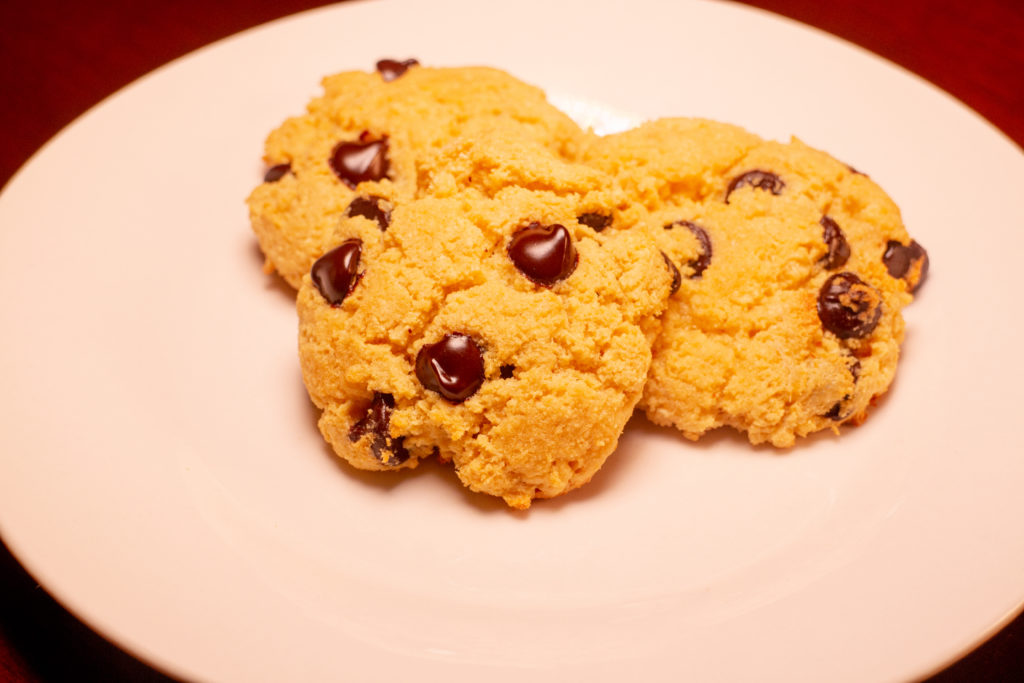 If you would like to help support Rocky Mountain Baking, use the links in the above article to make your Amazon purchases. As an Amazon affiliate we receive compensation for any purchases made through these links, and these purchases will help us to keep our content free for all.
Another Heading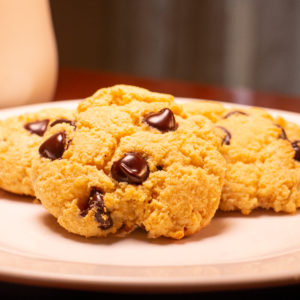 Soft Chocolate Chip Cookies
I think many of us would agree that not only are chocolate chip cookies tasty, they are a source of nostalgia. These soft chocolate chip cookies are a low carb twist on a soft chocolate chip cookie I remembered helping my mother make. The soft cake like texture of these cookies is absolutely wonderful, and if refrigerated they will stay moist and soft for several days. However, these are tasty enough, you may find they are all eaten within the first day.
Ingredients
4

oz

cream cheese

softened

1/4

cup

unsalted butter

softened

1/4

cup

sweetener

1/4

cup

brown sugar substitute

1/2

Cup

Coconut Flour

2

large eggs

1 1/2

tsp

vanilla extract

1/2

tsp

baking soda

1/4

tsp

sea salt

1

tsp

cream of tarter

1

Tbsp

gelatin

optional

1/2

cup

sugar free chocolate chips
Instructions
Preheat the oven to 350°F and line a cookie sheet with parchment paper or a silicone baking mat.

In a large bowl, beat the butter and cream cheese with mixer until smooth. Add your sweeteners and beat until well combined.

Add the vanilla and eggs (one at a time), and mix again until smooth.

Add the baking soda, salt, cream of tarter, gelatin. Mix until well incorporated, then add the coconut flour.

Once you have mixed in the coconut flour, stir in the chocolate chips. Your dough may seem sticky at first. Let the dough rest for approximately 10 minutes to thicken. Your dough will still be slightly sticky, but you should be able to roll it into balls without it sticking to your hands or losing shape.

Roll the dough into 1 1/2 inch balls, and place on the cookie sheet, giving about two inches of space between each ball. Smash them lightly with the palm of your hand. They should be approximately 3/4 in thick after this.

Bake for 15-18 minutes or until the cookies are slightly firm to the touch. Remove from the oven and let them cool completely before removing from the pan. Pour yourself a glass of your desired milk, and enjoy!

Tip - Between each step scrape the sides of the bowl with a spatula to allow for more thorough mixing
Notes
Total Fat 13.2 grams
Total Carbs 12.7 grams
Net Carbs 8.1 grams
Protein 2.8 grams