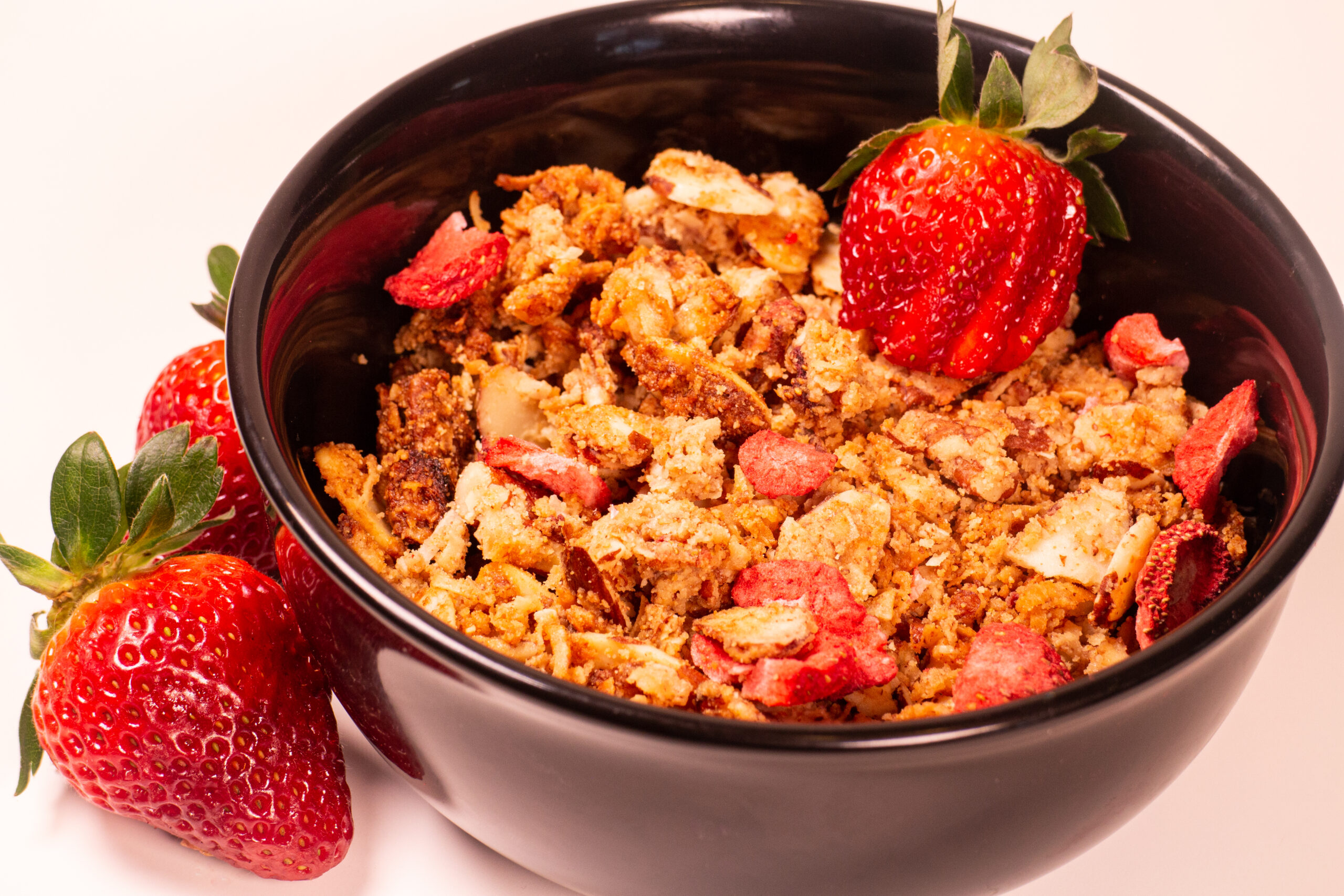 Strawberry Protein Granola
Many times this Strawberry Protein Granola has been a lifesaver as breakfast tends to be the meal I rush through the most. By the time I'm done with my weight session, have showered and gotten around for work that leaves me with very little time to actually cook breakfast.
Before I went keto, this wasn't an issue. I would pour me a bowl of granola, pour some milk over it, and voila! Breakfast was ready in less than a minute! I absolutely loved eating granola for breakfast, and since it comes in so many delicious flavors, I never tired of having it. Once I realized exactly how much sugar and carbs was really in what was labeled as a "healthy breakfast option" I was easily able to give it up without a second thought.
However, those mornings that I was running behind I couldn't help but wish I could just pull out a box of cereal or granola and be set. After a few mornings of wishing, I decided to do something about it and make my own keto friendly granola.
As I developed my strawberry granola recipe I was excited. Nuts, strawberries, coconut, and some almond butter were going to be the basis of my recipe, but what else could I add to make this granola, simply fabulous? Then it hit me. Protein powder, of course! With weightlifting I alway try to pack my breakfast full of protein, so my granola should have some extra protein too!
About Protein Powders
Now the trick with protein powders is not all of them are good for you. Every protein powder out there tries to tout itself as wonderful, but the truth is, many of them are not. If you look at the ingredients on many protein powders, you will find them packed with sugar and many of them even use wheat as a filler!
Needless to say when developing this recipe I did not use just any ordinary protein powder. I used the protein powder of champions. Jocko MOLK.
Instead of sugar, it's sweetened with monk fruit, making it very keto friendly and there are absolutely no fillers in it! This tasty and awesome protein powder sold by Origin Maine was developed by an ex navy seal ( Jocko Willink) , and it is packed with good for you ingredients, designed to help you achieve greatness and get after it. And did I mention? Jocko guarantees it will help you accomplish an 800 pound deadlift!
Because of it's awesomeness I use Jocko MOLK before my workouts in a power shake all the time, and I was simply excited to get to try it in something else! The more protein powder I eat the quicker I can hit that deadlift goal, right?! 😉
Note – Don't expect to lift 800 pounds first try. It takes hard work, discipline, and of course protein to achieve this. Length of time required to achieve an 800 pound deadlift will vary per individual. 🙂
How to Make Strawberry Protein Granola
To make this tasty keto friendly granola, the only kitchen gear you need is a baking sheet lined with parchment, a large mixing bowl, measuring cups, and a spoon.
Combine your sliced almonds, chopped pecans, shredded coconut, erythritol (or desired sweetener), protein powder, almond flour, and 1/2 cup of freeze dried strawberries in a large mixing bowl. Stir until everything is evenly mixed.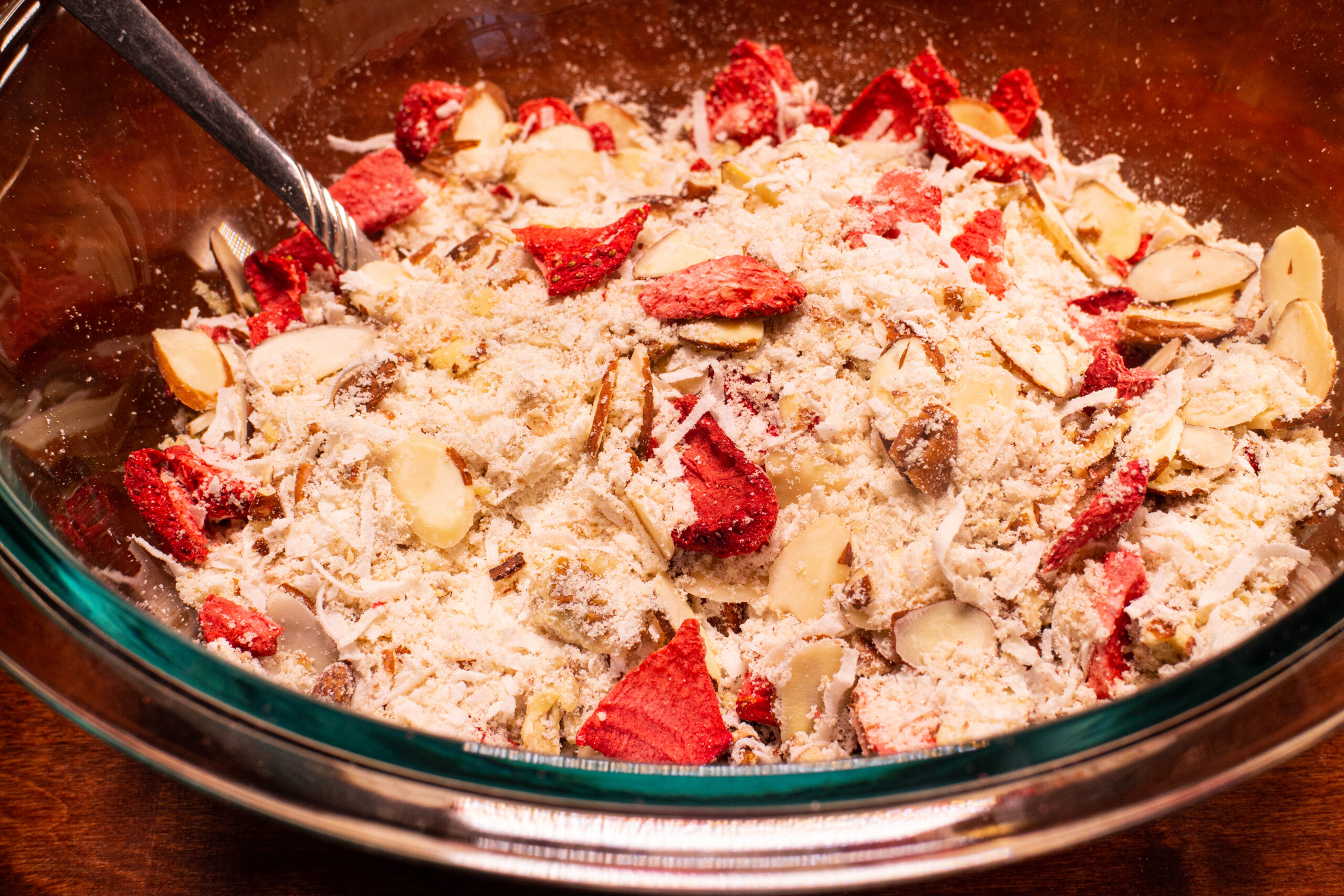 Melt your butter and almond butter in the microwave using 30 second increments, until it is runny. Make sure you stir it in between sets in the microwave, and break up any large chunks of almond butter to help it melt. Once your butters have melted, pour over the nut mixture, and mix until everything has been evenly coated.
After you have mixed in the almond butter pour 1/4 cup of cold water over the mixture. This will cause the granola to clump, and bind together. Once everything has been evenly mixed spread the mixture as evenly as possible onto your baking sheet lined with parchment.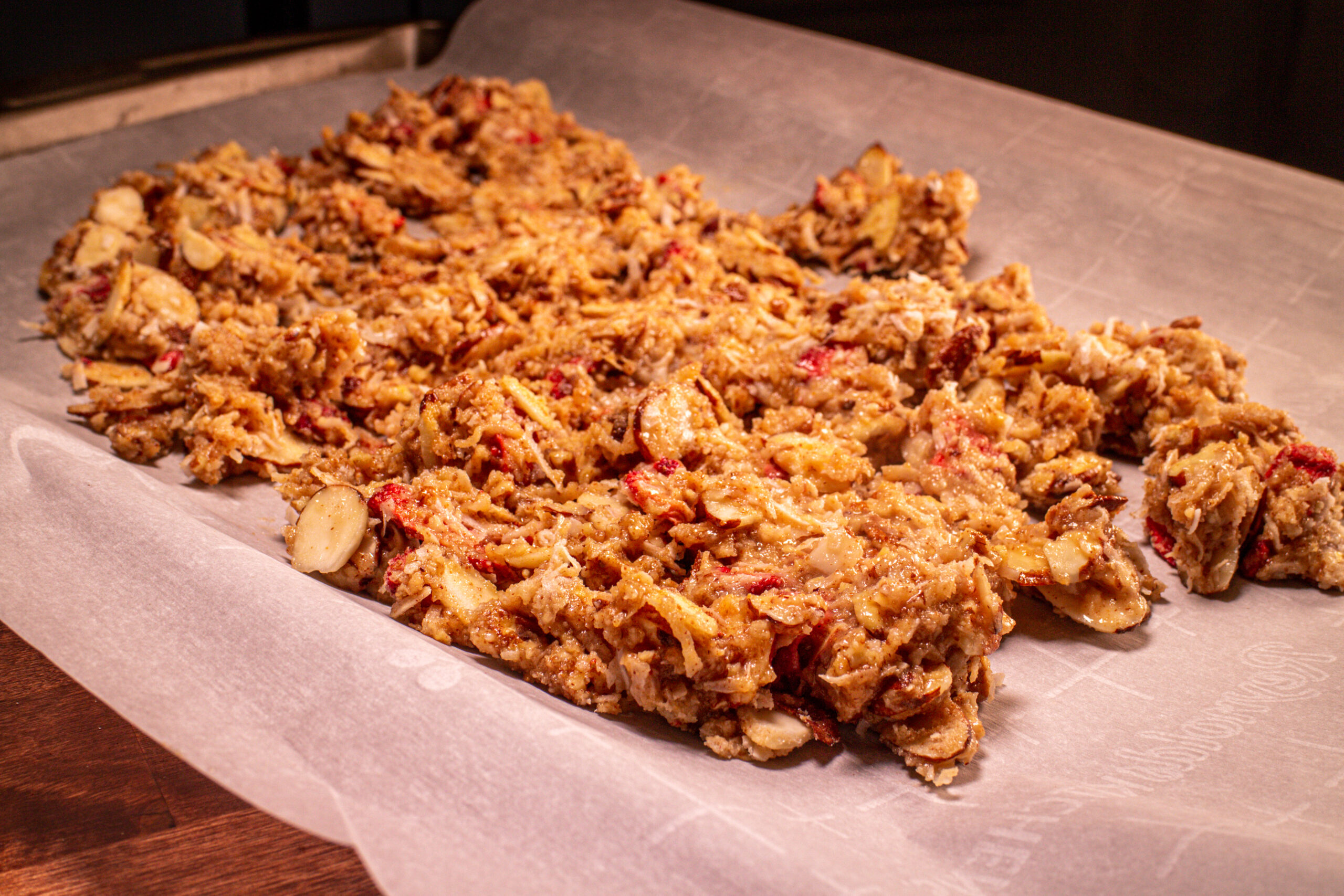 Bake the granola for fifteen minutes at 300° F, then stir the mixture. After you have stirred the granola, bake it another fifteen minutes or until it has started to turn golden. You may have to stir your granola a third time and bake another 5 to 7 minutes. Once the granola has turned golden and began to crisp up, remove it from the oven, and let it cool completely.
After it has cooled add another 1/4 cup of dried strawberries for extra color and tastiness. 🙂
Storing Your Granola
Because sugar acts as a type of preservative, your keto granola will not store as long as many granolas will. And it definitely will not have the shelf life a store bought, preservative filled, granola will. However, this strawberry protein granola is so delicious I guarantee it will not sit on your counter for long!
When storing your granola keep it in a dry airtight container for up to two weeks. Keep in mind your climate will change the shelf life of your granola. Here in Colorado we have a cooler, dry climate which makes for a longer shelf life than a warm humid climate. Use your best judgment on the shelf life of this granola, and if its particularly warm you can store it in the fridge. However, the humidity in the fridge will affect the crispness of the granola, making it not quite as tasty.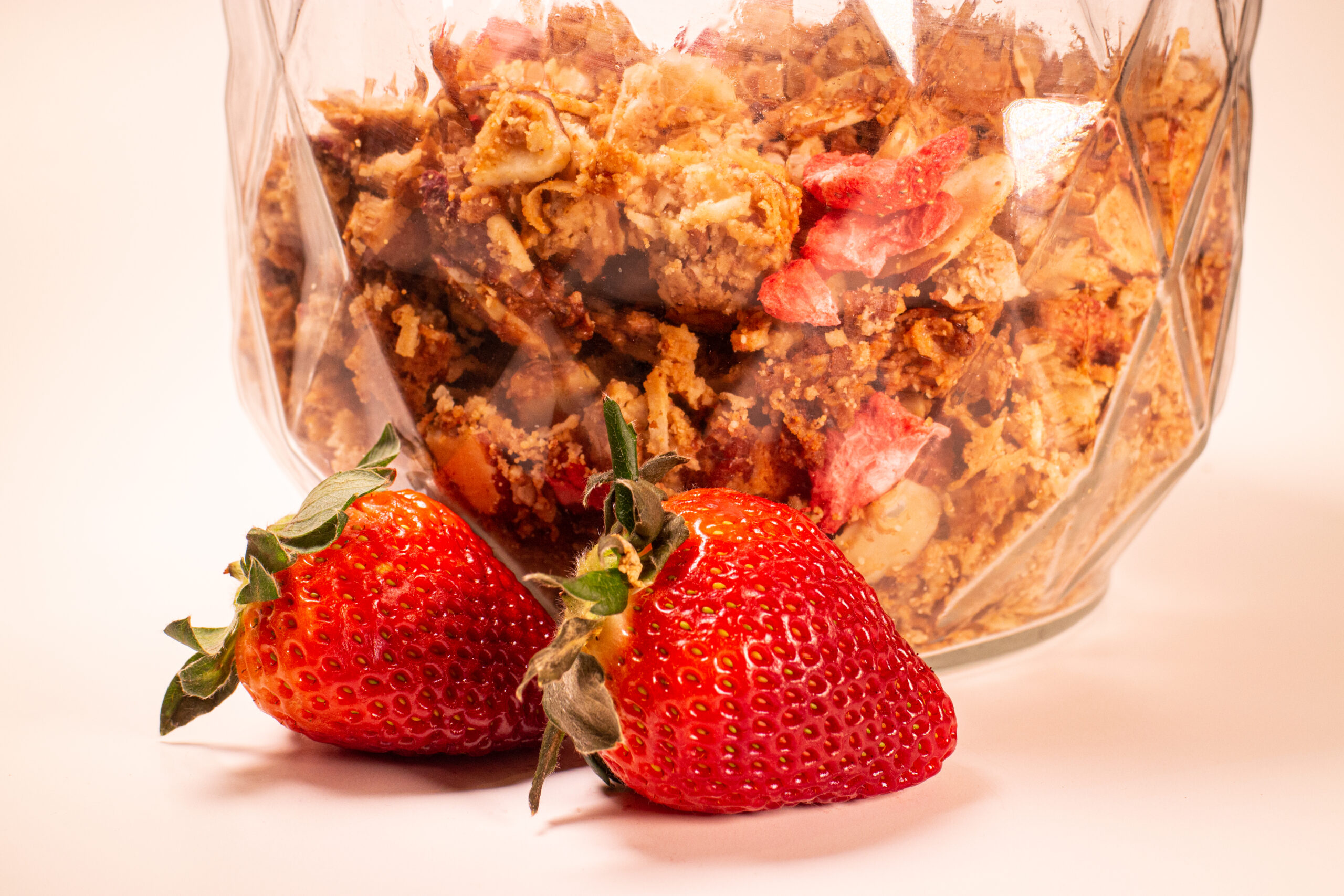 If you liked this recipe and would like to help support Rocky Mountain Baking, use the links in the above article to make your purchases. As an affiliate marketer we receive compensation for any purchases made through these links or links in our other articles, and these purchases will help us to keep our content free for all.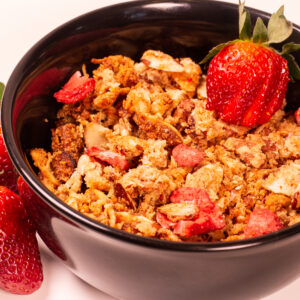 Strawberry Protein Granola
This tasty keto friendly granola, is the perfect way to start your morning! Vanilla protein powder not only adds to the delicious flavor, it also gives this granola some extra protein to start your morning off right!
Ingredients
1

Cup

Sliced Almonds

1

Cup

Chopped Pecans

1

Cup

Unsweetened Shredded Coconut

3/4

Cup

Freeze Dried Strawberries

1/2

Cup

Blanched Almond Flour

1/3

Cup

Erythritol (Or your favorite sweetener)

1/3

Cup

Vanilla Protein Powder

1/4

Cup

Butter

1/3

Cup

Almond Butter

1/4

Cup

Water
Instructions
Preheat the oven to 300° F.

In a large mixing bowl combine the almonds, pecans coconut, erythritol, protein powder, almond flour, and a half cup of the freeze dried strawberries. Stir until everything has been evenly distributed

Melt your butter and almond butter in the microwave stirring every thirty seconds. (You may also melt it in a double boiler, but the microwave is a quicker option.)

Pour the melted butter over the dry mixture, and stir it until everything has been coated evenly with butter.

After you have mixed in the almond butter pour the cold water over the mixture. This will cause the granola to clump, and bind together.

Once everything has been evenly mixed spread the mixture as evenly as possible onto your baking sheet lined with parchment, and bake for fifteen minutes. Stir the mixture, then bake another fifteen minutes or until it has began to turn golden brown. You may have to stir it a third time and bake another 5 to 7 minutes. Once the granola has turned golden, remove from the oven, and let it cool completely. After it has cooled mix in another 1/4 cup of dried strawberries.

Store in an airtight container for one to two weeks.

(Keep in mind your climate will change the shelf life of your products.)
Notes
Total Fat - 28 Grams
Saturated Fat - 9 Grams
Total Carbs - 8 Grams
Net Carbs - 2 Grams
Protein - 9 Grams
Another Heading