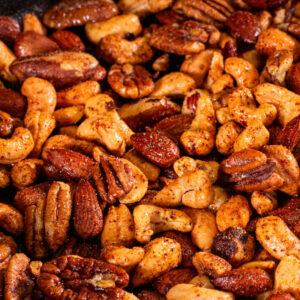 Southwest Mixed Nuts
The robust flavor of these southwest mixed nuts make for a delicious afternoon snack. If you like your stuff a little on the spicy side I recommend doubling your cayenne, and if you really like your spice try tripling it or more!
Ingredients
2

Cups

Salted Mixed Nuts

1

Tbsp

Olive Oil

1/2

Tsp

Himalayan Pink Salt

1/4

Tsp

Garlic

1/4

Tsp

Onion Powder

1/4

Tsp

Cumin

1/4

Tsp

Paprika

1

Tsp

Chili Powder

1/8

Tsp

Cayenne
Instructions
Preheat your oven to 375° Farenheit.

Mix all your spices together into a bowl and set aside.

Pour your nuts onto a baking sheet or cast iron skillet and drizzle with olive oil. Stir until the oil has lightly coated all of the nuts.

Sprinkle your spice mix over the nuts and stir again.

Bake in the oven for 15-20 minutes, stirring every five minutes until nuts have started to brown. Pull out of the oven, and let them cool completely before eating. Enjoy!