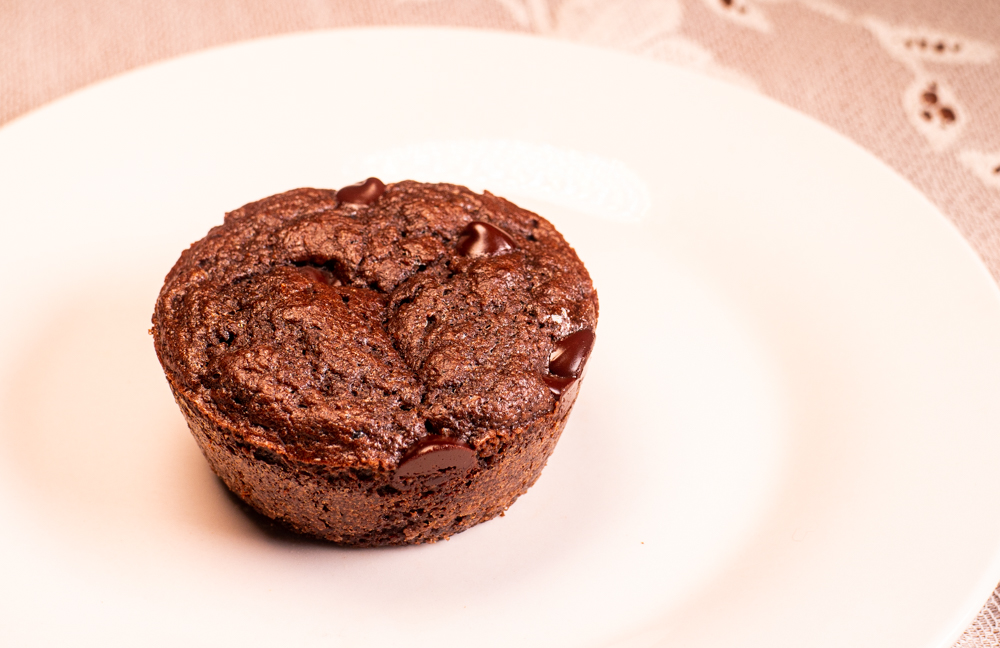 Muffins Versus Cupcakes
One of my favorite arguments to use when trying to talk my mom into letting me eat cake for breakfast as a child was, "It's basically the same thing as a muffin, and we eat muffins for breakfast."
I'm sure I'm not the only child who has used this argument, and the argument worked for me on many occasions! As an adult I still love to eat dessert for breakfast, and have yet to figure out exactly why cake is not a breakfast food, but muffins and donuts are. As I developed the following Chocolate Muffin Recipe I debated on whether it should be called a cupcake or a muffin. I finally decided to deem it a muffin, as it doesn't have frosting and I ate it for breakfast more often than dessert. It also paired rather nicely with some coffee, bacon, and eggs making for a filling breakfast, thus proving to me this HAD to be a breakfast food.
Perhaps you may disagree, and if so I must ask you what really is the difference between a muffin and a cupcake? 😉
Making Keto Chocolate Muffins (or Cupcakes)
Not only are these keto chocolate muffins tasty, they are SUPER DUPER easy to make and require no special equipment besides a muffin pan. When prepping my muffin pan I just sprayed it with an avocado oil non stick spray, and my muffins all came out with no problem. Using liners is another great and easy option for prepping your pan, especially if it's an older, worn down muffin pan. I've found on some of the older pans, I can coat them heavily with spray and my baked goods still stick. If that's the case with yours muffin liners help a ton!
After I've prepped my pan and set the oven to heat to 350° F I start mixing up my muffins. So that I can mix everything in one bowl and cut down on the dishes I combine all my dry ingredients into a large mixing bowl first. ( Almond flour, Dutch processed cocoa, erythritol, baking powder, and salt) Using a whisk or a fork, mix the ingredients until everything has been distributed evenly.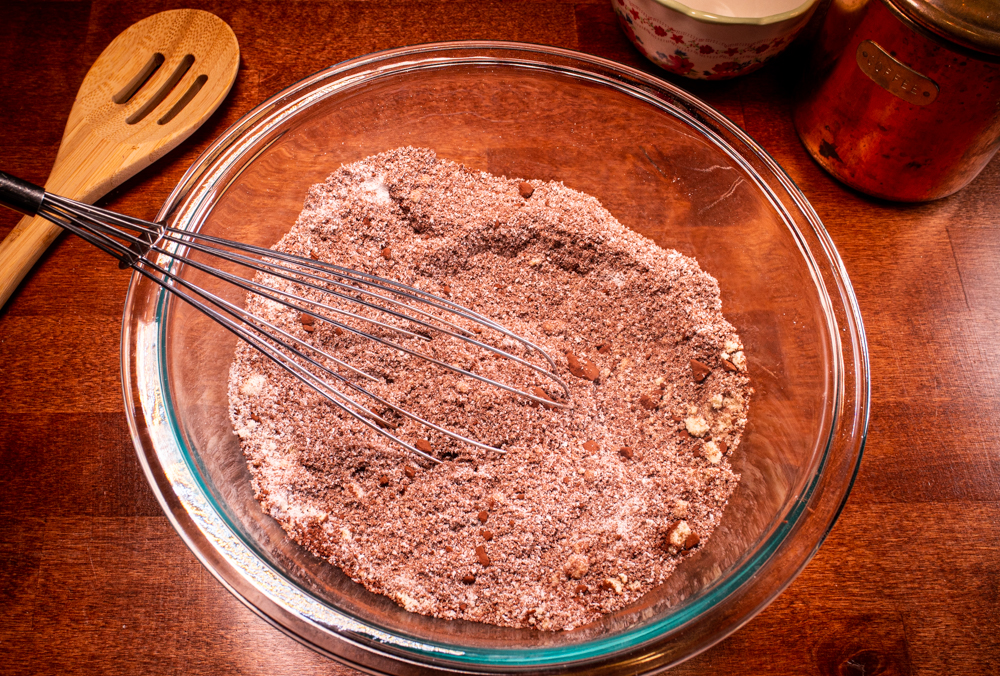 Once the dry ingredients are evenly mixed, add the eggs, heavy cream, vanilla extract, and water to the dry mixture. Whisk until you have a smooth, delicious, chocolatey batter.
Using a measuring cup pour the batter into the prepared muffin cups, filling about two thirds of the way full. After that sprinkle some sugar-free chocolate chips on top of the batter.
When making these I used Lily's Chocolate Chips and I highly recommend them! The first time I tasted Lily's Chocolate Chips I was astounded. I had prepared myself for a mediocre chocolate chip with an aftertaste, but these chocolate chips were definitely not mediocre! These tasty chocolate chips are made with quality chocolate and sweetened with erythritol, resulting in a superb sugar free chocolate chip. I absolutely love them!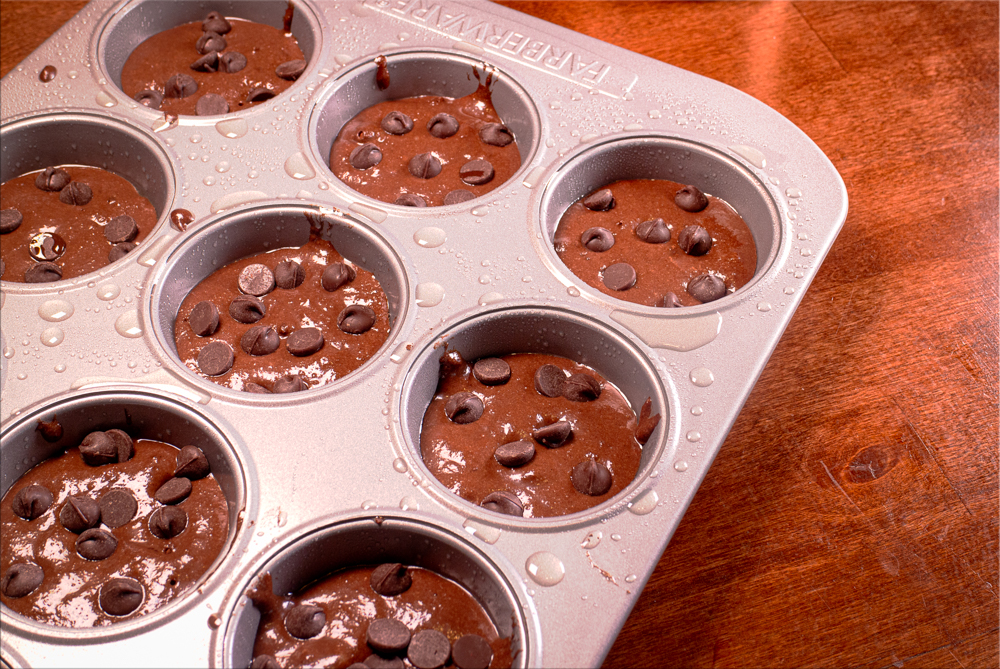 Once your batter and chocolate chips are in the pan, bake your muffins for 15 to 18 minutes or until set and the edges have began to pull away from the pan. Let the muffins cool completely before removing from the pan. Enjoy with your favorite brew of coffee for dessert or breakfast!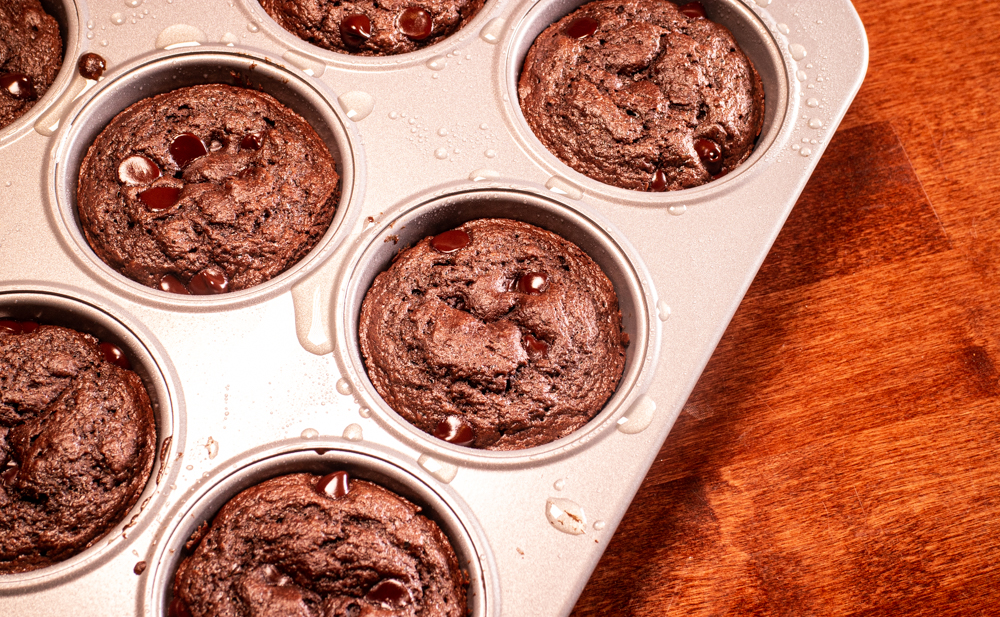 Do I Really Need Dutch Processed Cocoa?
If you have read my article on Double Chocolate Brownies you already know the answer to this question. Yes, the type of cocoa you use makes a monumental difference in how your homemade chocolate products turn out!
Years ago we would use a well known brand of cocoa almost every American baker has tried at one time or another, and I was always so disappointed in any chocolate treat made with this cocoa. It never had the rich chocolatey flavor I was after, and no matter how many times I tried it I was always disappointed.
I hesitated to make anything homemade with chocolate until I discovered Dutch processed cocoa. What led me and my mom and I to trying it, I do not remember, but I do remember the first time I made anything with it I was absolutely astounded! It had all the chocolatey flavor I was looking for, and then some! After that I loved making homemade chocolate desserts, and anyone who tried them noticed a definite difference in the chocolate flavor!
When making these Chocolate Muffins, I highly recommend buying Dutch Processed Cocoa before you do. If you try making these with your regular cocoa bought in the supermarket, I think you will be sorely disappointed, but if you make them with Dutch Processed Cocoa from The Prepared Pantry I will guarantee you will love them!
If you liked this recipe and would like to help support Rocky Mountain Baking, use the links in the above article to make your purchases. As an affiliate marketer we receive compensation for any purchases made through these links, and these purchases will help us to keep our content free for all.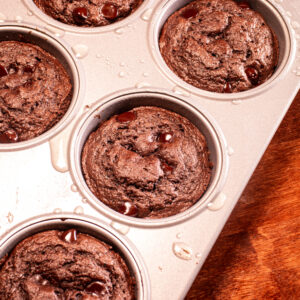 Keto Chocolate Muffins
These rich keto chocolate muffins pair wonderfully with a cup of coffee, making them an awesome breakfast treat, or a tasty low carb dessert option. No matter which way you choose to eat them, their rich dark chocolate flavor is sure to please any chocolate lover.
Ingredients
3/4

Cup

Erythritol (Or your favorite sweetner)

1

Cup

Blanched Almond Flour

1/3

Cup

Dutch Processed Cocoa

2

Teaspoons

Baking Powder

1/8

Teaspoon

Salt

4

Large Eggs

1/4

Cup

Heavy Cream

1/2

Teaspoon

Vanilla Extract

1/4

Cup

Plus 2 Tablespoons Water

1/3

Cup

Lily's Chocolate Chips (or your favorite sugarfree chocolate chips)
Instructions
Preheat the oven to 350° F. Prepare your muffin pan by spraying it with nonstick spray or lining with muffin liners.

Mix your erythritol, almond flour, cocoa, baking powder, and salt in a large mixing bowl until evenly distributed.

Add your eggs, heavy cream, vanilla, and water to the mix and whisk until you have a smooth chocolatey batter.

Using a measuring cup pour the batter into the cups filling about 2/3 of the way full, then sprinkle some sugar-free chocolate chips on top.

Bake for 15-18 minutes or until set and firm to the touch. Let the muffins cool completely before removing from the pan.
Notes
Total Fat - 8 Grams
Saturated Fat - 3 Grams
Total Carbs - 5 Grams
Net Carbs - 2 Grams
Protein - 3 Grams
Another Heading